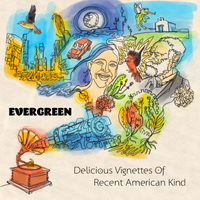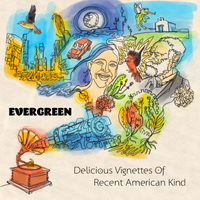 Overture puts a creative spin on the classics by reimagining Dvořák in a mid-century context:

While living in Spillville, Iowa in 1893, Czech composer Antonín Dvořák composed the String Quartet No. 12, Op. 96. Nicknamed the American String Quartet, the masterpiece was deeply influenced by singularly American sounds such as American birds, trains, First Nations rituals, and especially African American spiritual music. Today, classical cellist and new music artist Evergreen has taken on the challenge of reinterpreting Dvořák's work to musically represent the America that has developed in the 130 years since.

The mission of Evergreen's upcoming LP, titled Delicious Vignettes Of Recent American Kind, is to reinterpret each movement of the American String Quartet in genres that derived from the music that originally inspired Dvořák's composition. The first track of the album, Overture, presents an alternate reality of the first movement of the quartet (Allegro ma non troppo) by tipping a hat to the mid-century American musicals she loved as a child. The sweeping melodies and grand fanfares are reminiscent of classics by Richard Rodgers and Frederick Loewe.

"I had so much fun working on this piece," says Evergreen of the creation process. "I feel that I've gotten to know the quartet much more deeply than I ever did when I was performing it classically, and I especially feel much closer to its American roots. Re-scoring the first movement allowed me to map out a whole theatrical storyline to the work. I loved thinking about characters and plot points that could be associated with each theme and instrument; it was like creating and watching a musical film from my childhood in my mind. I like thinking that a listener could visualize a whole musical that would take direction from the themes presented in this three-minute arrangement."

Evergreen is an Austin-based music teacher whose work is profoundly motivated by a need to diversify mainstream musical education. She recognizes the potential of every form and genre of music to be deeply educational and worthy of study, and believes that the study of many genres of music is in fact essential to recognizing shared humanity and bridging gaps created by elitism, economic disparity, and racial hierarchy.

Overture was recorded at Scary American Studios in Austin, Texas. Most of the musicians on the track are big band players, as it was important to Evergreen that the musicians on each track be experts in the genre that the movement seeks to reflect. Overture was released on all platforms on February 3, 2023. Delicious Vignettes, which will include Evergreen's genre-bent interpretation of Dvořák's American String Quartet in full, will be released March 31, 2023.